I always wanted to go to one of these as a kid. I thought getting invited to a Tupperware Party was the height of an exciting social life!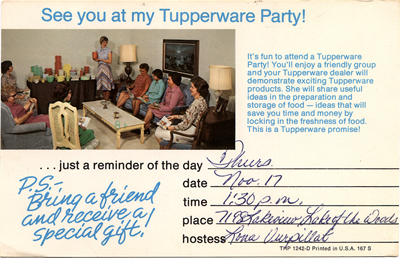 My childhood was filled with Tupperware. My grandmas and aunts used them to store flour, leftovers and rice, among other things, and I often took lunch to school in them. I even have memories of using one of the rectangular red containers with compartments inside and a white top as a sewing box for home ec in school. So my recent fascination with Tupperware from days of yore comes as no surprise. It combines two things I love: vintageness + domesticity!
This old-school obsession actually started with seeing this pic of E. when he was younger.
Yes, that is a Smurf Cake, which he decorated himself! (Happy Smurf Day, lol!) My eyes widened when I saw the cake carrier underneath it. I remembered one like it EXACTLY from a neighborhood kid's birthday party when I was little. I couldn't type the words "vintage Tupperware" into Google fast enough!
I've been feeding my old-school obsession at a steady pace for several weeks now. The Internet is great for foraging for these vintage gems and has lots of devoted collector groups, some of which are over on Flickr. (How things from when I was growing up are now considered "vintage" is subject to another day's discussion!)
Rummage through the kitchen cupboards from your childhood with me! Remember these?
* Canisters with center buttons that you had to "pop" for freshness
* Classic orange jug—always filled with ice-cold Tang!
* Yellow-and-cream food containers with that little swirly insigna
(Photos via **tWo pInK pOSsuMs**.)
eBay also has lots of excellent finds. Naaliw naman ako!
* Stackable lunch carriers
(Via mykraft.)
* Hours of endless fun with the Shape Sorter toy!
(Via froggrrll.)
And look, I found the exact kind of red case I used in home ec class in 6th Grade!
(Via sutton459.)
The biggest collection of vintage Tupperware ads, catalogs and posters is hosted over on the amazing Tupper Diva site. I'm obsessed with looking through it.
And, oh, yes Tupperware is apparently still alive and thriving. Here's their website, along with their now-modern designs, like these awesome food keepers for chilis, avocado halves, onions and garlic.
I don't have the space to start my own collection, but I'd like to find some of these as storage bins for my craft area. I think it would be great if I could organize all my stuff in all these retro cases. I'm really hoping to scour the next Pasadena Rose Bowl Flea Market for them!
I'll be blogging about my old-school domestic obsessions every once in a while. It's a growing list!
(Next up: Good ol' Pyrex!)